Floriography
The language of flowers
'A tulip doesn't strive to impress anyone. It doesn't struggle to be different than a rose. It doesn't have to. It is different. And there's room in the garden for every flower'
- Marianne Williamson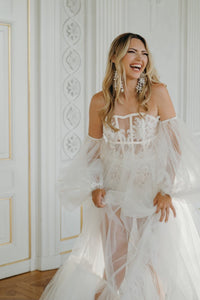 The pollen & plume woman
A fun loving free spirit. Inspired by nature, she is a contemporary romantic. With deep inner strength and independence, she isn't afraid to embrace what the earth is offering.
(Pictured - Willow Earrings) 
Coming Early 2024...
A new collection.
'flora' An ode to rediscovery and new beginnings. A collection of artisan made gold vermeil jewellery dedicated to feminine energy and love 💫
Designed by pollen & plume and hand crafted by artisans in Jaipur, India.
follow us @atelierpollenandplume
Bespoke Bride Feature
Nikeisha & Oliver
Nikeisha and Olly met when they were fifteen and dated for about a year. When life took them in different directions they separated but still kept in touch. Their young love was strong and finally in 2013 they were both in the same place at the same time… and almost 9 years later were married! 
They planned and coordinated their stylish black and white wedding themselves, wanting something super fun and nothing too formal. They had their closest friends stay over the night before to help set up the venue. From taking delivery of the furniture, to gluing the ribbon on the wedding favours - the famous homemade chilli Jam made by Olly's mum (yum). Everyone stayed over in glamping tents so the party didn't have to end.
Nikesha fell in love with the 'Jess' Dress from Eva Lendel at first try and then commissioned her Bespoke Flower Crown. Nikeisha was a dream to work with and here's what she had to say about the bespoke design process.
"I had given up on finding a headpiece until I came across pollen & plume. I fell in love with Alison's designs straight away and emailed about a bespoke design. Alison called me almost immediately and after about an hour talking to her on the phone, she knew exactly what I wanted. The next day I received samples of all her materials so I could match to my dress. Alison sent me photos and videos throughout the process, but I really didn't need to make any changes, it was exactly what I had imagined.
I can't thank you enough Alison, you were so easy to work with and created the perfect bespoke headpiece! Xx"
Huge congratulations to you both!
Bride @nikeishadunstan
Groom @oliver.buyersagent
Photo @allumeweddings
Dress @evalendel
Accessories @madametulle @pollenandplume